In our final insights piece of the year we thought we would give you a summary of everything we've been doing, our ambitious plans for next year, what we're now offering, and how we're giving back to the local community.
We recently featured in the Lancashire & North West Magazine which covered all this in detail: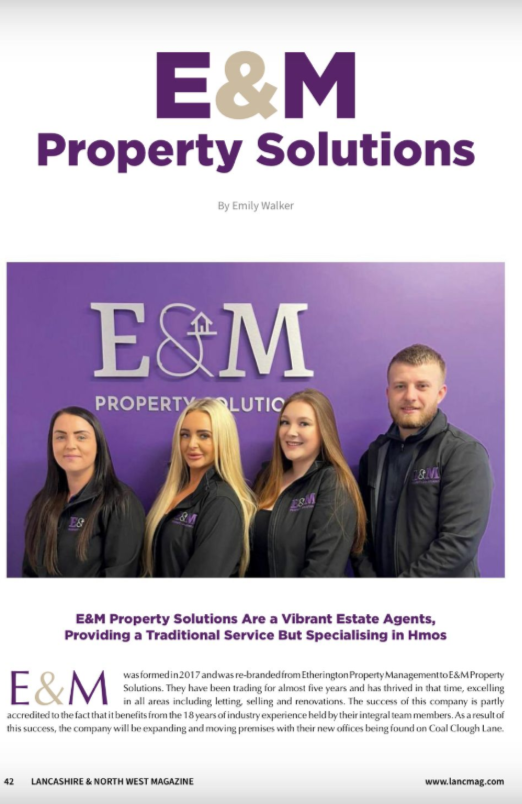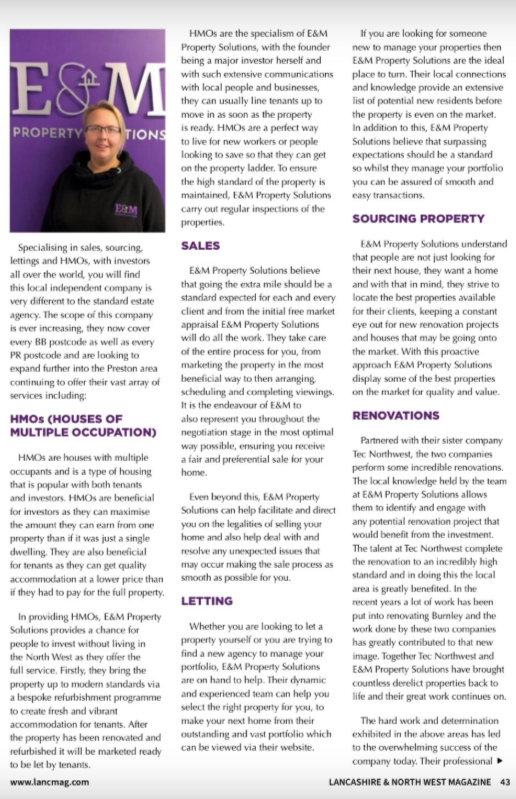 You can subscribe here to read the full piece.
Our 2021 story and what's to come
There's a lot we do here at E&M that you won't see at other estate agencies, which the magazine article covers. For example, did you know that we source properties locally for investors all over the world? Or that we can manage full renovations and handle your project from sourcing through to finding tenants? We're experienced investors and extensive networkers and through our experience and connections we can get you to where you want to be as a property investor.
Of course, we can help with all the traditional things you'd expect a sales and lettings agency to offer too.
Another highlight in the magazine piece is our expansion plans. We're currently moving to new, larger offices in Burnley on Coal Clough Lane and we now cover all BB and PR postcodes. We're also planning to launch physical new premises in Rishton and Preston in early 2022.
In terms of giving back, we've recently sponsored a local school football team. You can find out more about that here. We've also had our Grand Giveaway! running for a second straight year and are donating £1,000 to a local care home to fund a Christmas party for the residents. We feel it's our duty to keep giving back and we have many more local initiatives planned for 2022.
Merry Christmas and a Happy New Year!
As we all now start to wind down for Christmas, we want to wish you a fantastic festive period and all the best for 2022. From all the team here at E&M Property Solutions.